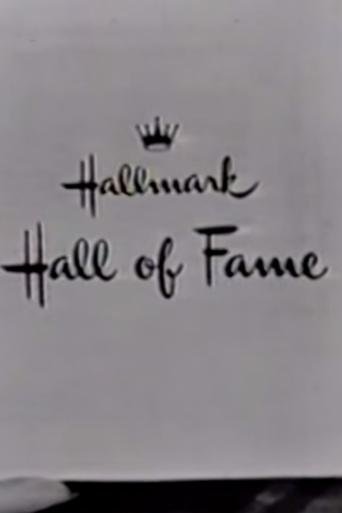 Hallmark Hall of Fame is an anthology program on American television, sponsored by Hallmark Cards, a Kansas City based greeting card company. The longest-running primetime series in the history of television, it has a historically long run, beginning during 1951 and continuing into 2013. From 1954 onward, all of its productions have been shown in color, although color television video productions were extremely rare in 1954. Many television movies have been shown on the program since its debut, though the program began with live telecasts of dramas and then changed to videotaped productions before finally changing to filmed ones. The series has received eighty Emmy Awards, twenty-four Christopher Awards, eleven Peabody Awards, nine Golden Globes, and four Humanitas Prizes. Once a common practice in American television, it is the last remaining television program such that the title includes the name of the sponsor. Unlike other long-running TV series still on the air, it differs in that it broadcasts only occasionally and not on a weekly broadcast programming schedule.
Író(k):
Michael De Guzman
Paul Gallico
Richard Friedenberg
Szereplő(k):
Season 2011 Részek listája
Megjelenés dátuma:

During World War II, Navy Lt. Neil Thomas bids his pregnant young wife, Caroline, farewell at Union Station. But even before their son is born, Neil's plane goes down in the Pacific and he's declared missing in action. Caroline is devastated. Neil was Caroline's one great love... and for the next 65 years Caroline (Betty White) returns to Union Station on the anniversary of the day they said goodbye forever (Valentine's Day), to salute the memory of her brave and beloved husband. Eventually, a TV journalist (Jennifer Love Hewitt) learns of the touching story and sets out to investigate just what happened to Neil during the war. Neil and Caroline's grandson encourages his initially-reluctant grandmother to cooperate; the TV reporter and the grandson fall in love themselves.

Megjelenés dátuma: 2011-11-27

Cleric Henry Covington (Laurence Fishburne) and Rabbi Albert Lewis (Martin Landau) profoundly affect the life of writer Mitch Albom (Bradley Whitford). Based on a book by Mitch Albom.